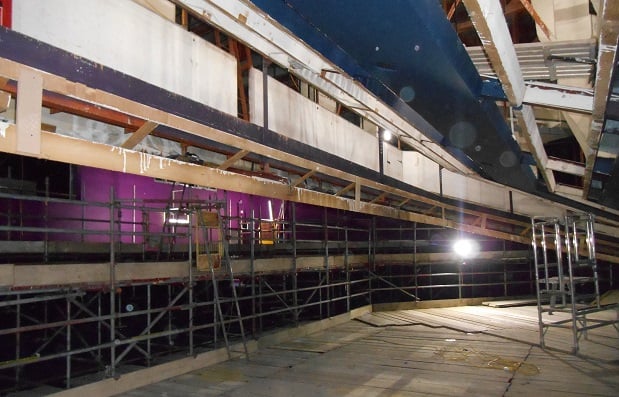 Although both interior and exterior scaffolding can provide a similar function, there may be significant differences in the considerations taken during design. Here we take a look at some of the key potential differences between interior scaffolding design and an exterior design.
Freestanding vs Tied
The first, and most obvious difference is that generally we do not consider wind loadings when designing internal scaffolding. Typically, ties to an interior scaffolding will not be subjected to such high loads as an exterior structure will.
Flooring Considerations
Interior flooring surfaces are frequently less robust than an exterior ground surface, so generally more consideration will be given to the leg loads imposed on the floor. Also, consideration is given to the possible need to spread the loads to multiple floors with back propping. In addition to weight-bearing considerations, there can also be the need to minimise cosmetic damage to the floor. As a consequence, interior scaffolding may require protection on the footings.

Is TG:20 The Best Option?
The introduction of TG:20 was, in part, intended to remove the necessity for a bespoke design for every piece of scaffolding. Whilst the standard scaffolds contained within it are a useful generic guide, there are frequently occasions when an individualised design is required and can even represent better value overall. TG:20 is a set of guidelines rather than legislation, giving scaffolding companies the option to use more economical, bespoke designs from an experienced design company if they wish.

Could Bespoke Scaffolding Interior Design Be A Better Option?
The use of TG:20 guidelines will result in a generic structure which is fit for purpose in many situations, but with limited flexibility. And whilst TG:20 eliminates the need for an individual design, it may also mean that cost-savings, function and innovative solutions to tricky interior design challenges are overlooked. This can be particularly beneficial when considering the extra complexities that can come with working in small interior spaces. With this in mind, as well as location-dependent variables, a bespoke design can often be the best option.
Access Design have decades of experience in construction and can give you experienced, expert advice. Contact Access Design today for help and guidance on scaffold designs - click here to get in touch. You can also download our free guide to When Scaffolding Does And Doesn't Need A Design by clicking here.