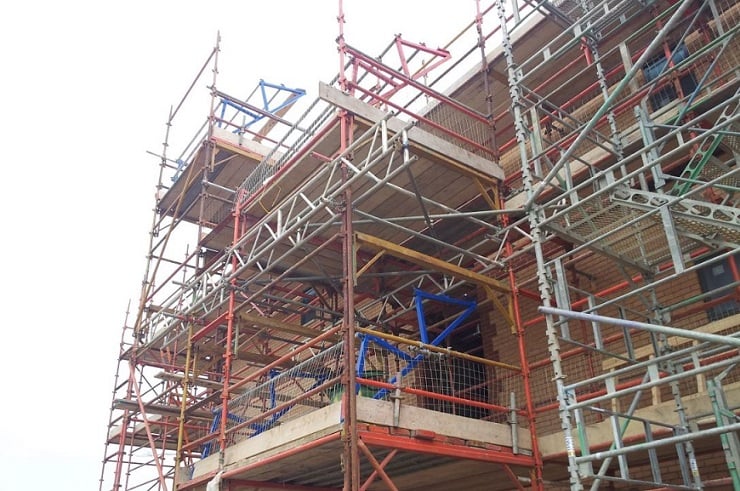 Scaffolds are required in all sorts of locations, for all sorts of projects - new builds, renovations and sometimes even just a paint job. Although scaffolds might all seem alike, they can be very different.
Any scaffold that does not comply with TG20:13 definition of a standard scaffold should be covered by a bespoke design, unless a system scaffold is used in which case any scaffold that does not comply with the user manual should be covered by a bespoke design. Some scaffolds may consist of multiple scaffolding systems that fit together.
Without a proper, professional scaffold design, there are many things that can go wrong - from mere delays in construction to serious collapses that endanger the lives of workers and the public.
Types Of Scaffold System
There are many types of scaffolding systems and we are going to focus on 'tube and fittings' and compare these with the 'system scaffolds'.
Tube & Fittings Scaffolding
These types of scaffolding are constructed using 48.3mm diameter tube as a stable, braced structure with platforms made up of scaffold boards. The scaffold tubes must comply with BS EN 39 and are connected using load bearing couplers except where board bearers are fixed to ledgers when none load bearing wrap over couplers are generally used.
The result is a stable, safe working platform. Access is gained via a ladder or staircase, which should be fitted with the relevant safety supplies like handrails and toe boards. Tubes are available in various materials, including lightweight aluminium and galvanised steel, and everything must be fully compliant with legislation standards. Tube & fitting scaffolds must be erected by skilled qualified scaffolders.
System Scaffolding
This type of scaffold is constructed from a range of different sized vertical posts, along with diagonal and horizontal members. The vertical posts are fixed at regular space intervals, which facilitate quick connection of the diagonal and horizontal tubes. System scaffolding is a common alternative to tube and fitting scaffolds.
The biggest difference is that system scaffolding can be erected much more quickly and by unskilled labour. System scaffolding uses free bearing joints in a latch mechanism. The interlocking components form consistently-sized bays, which can be adapted for the formation of structures like Access scaffolds, protection fans, cantilevers & bridged sections as required. They are versatile and effective, requiring prefabricated parts based on a careful design.
The down side is that bay sizes are restricted to a range of set sizes. This modular nature of system scaffolds can make it difficult to scaffold around complex shapes or in areas where space is restricted.
The Importance Of A Professional Scaffolding Design Company
Whatever type of scaffolding solution you use, the role of the scaffolding engineers is essential. They have the training and skills to undertake complex designs using CAD, factoring in things like frame analysis and wind loading analysis with sophisticated software to create safe, efficient and effective scaffold structures. Without due diligence at the design phase, there can be dire consequences for all involved.
Access Design & Safety provide a comprehensive scaffold design service with fast turnaround times. Our designs are fully compliant with all legislation and covered by extensive public liability and professional indemnity insurance. Get in touch and ask about our fixed price quotes - we can provide cost-effective, safe designs that allow you to focus on getting the job done.