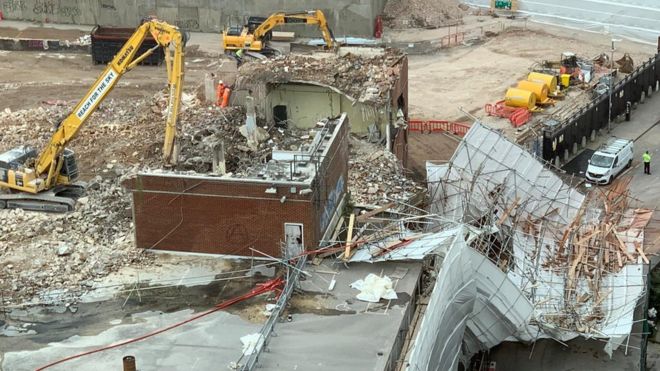 Access Design & Safety were shocked to hear about the recent scaffolding collapse in Reading town centre, which left three people requiring hospital attention. The incident occurred on Garrard Street at the site of the old Friars Walk Shopping Centre. Shortly before 11:15 on 1st August, large sections of the scaffolding came crashing to the ground.


According to one eyewitness, "People started running away and when everything collapsed one lady was caught by the scaffolding and cut her hand." Another said there was an "almighty crash and lots of dust and debris. It was horrifying, very shocking and very concerning".

Ambulances and firefighters were called to the scene. The fire service used thermal imaging equipment to check that nobody was trapped by the falling scaffolding. Thankfully, there appear to have been no further casualties.

Three people were taken to hospital suffering from injuries due to the collapse; a site worker and a couple who were passing by at the time of the collapse. Thankfully, the injuries proved to be relatively minor - the site worker sustained a head injury and a lady ended up with a cut hand, whilst her companion was treated for shock. A spokesman for the South Central Ambulance Service said, "Our emergency operations control room team took upwards of 10 emergency calls from around 11.15am all reporting a scaffolding collapse at the former Friars Walk shopping centre. We have assessed three patients who sustained minor injuries as a result of the collapse. We are remaining on scene to support colleagues from the Royal Berkshire fire and rescue service."

The scaffolding was surrounding the old shopping centre, which was in the process of being demolished as part of the area's redevelopment. It's currently not clear why the scaffolding collapsed, although the Health and Safety Executive have been informed and are currently conducting enquiries in order to establish what the cause of the collapse might be, as well as what lessons (if any) may be learned from the incident. However, despite this incident being widely reported as a 'scaffold collapse' this could be wide off the mark. From the images we have seen it appears that it could have been a building collapse that took the scaffolding with it.

We are just thankful that the casualties of this incident were relatively few in number and the injuries sustained of a minor nature. We'll keep you informed of any further developments to this story.
Here are some other blog articles that may be of interest to you:
Image source: BBC