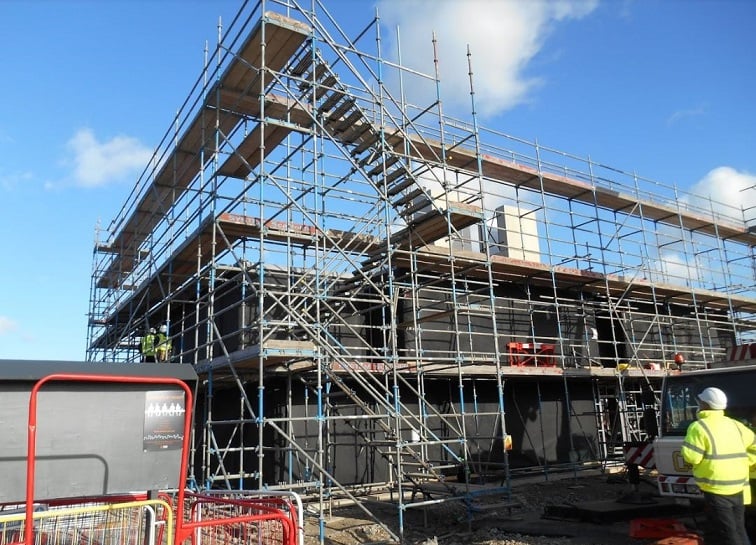 When site staff are working at any level of elevation, companies have a legal obligation to ensure their safety. It also makes commercial common sense to provide teams with good support when working at height. The confidence this brings makes it easier and quicker to move around.
For many sites, this means integrating firm, properly configured and carefully placed scaffold handrailing. This can greatly reduce the chance of people, equipment or tools falling.
Why Scaffolding Barriers Are Needed
The great advantage of using scaffold handrailing is that the design and placement can be adjusted to match any project, including temporary ones, and even adapted over time. So, if your scaffold barrier needs to extend as your construction project grows, this is a relatively quick adjustment.
Also, having a scaffold barrier can become particularly advantageous when your site experiences a busy spell, with lots of staff, equipment, materials and tools moving about and interacting. Those are the times when items can get dropped, kicked or pushed all too easily!
This is why providing site handrails is key for the use of scaffolding. They enable construction crews to operate safely in elevated positions and support staff carrying out extensive external cleaning and repairs on the sides of buildings. It can also be a necessary component of other forms of scaffolding, such as structures to support staging.
How To Get Scaffolding Handrails Fitted
According to UK law, handrails for construction work must be at a minimum height of 950 mm. Gaps between the top rail and any intermediate rail can't be more than 470 mm. That's not always as straightforward to comply with as it appears, particularly as the scaffolding design for each site can vary greatly.
Sadly, there have been recent cases of companies facing heavy fines when contractors have suffered severe injury due to the absence of adequate handrails (Source: https://www.safetyaccess.co.uk/2018/05/company-fined-for-missing-handrails-after-contractor-fell-from-scaffold).
Incorporating a scaffolding safety barrier is something best left to the professionals at Access Design and Safety Ltd. Comprehensive site surveys and intuitive scaffolding designs are needed to ensure that handrails are properly configured and fitted.
When using scaffolding for working at height, there is a lot more to consider than the dimensions and features of the structure. For example, how would extreme weather impact on the safety performance of the structure, including handrails and toe boards? We also analyse the equipment types and transport arrangements for each project, to make sure that the scaffolding safety barrier does its job without being an obstacle to smooth workflow.
For more insights on scaffolding and handrails, don't hesitate to get in touch.